Plaza Premium First Hong Kong curates the world's first independent airport lounge art exhibition in partnership with Beijing Poly Art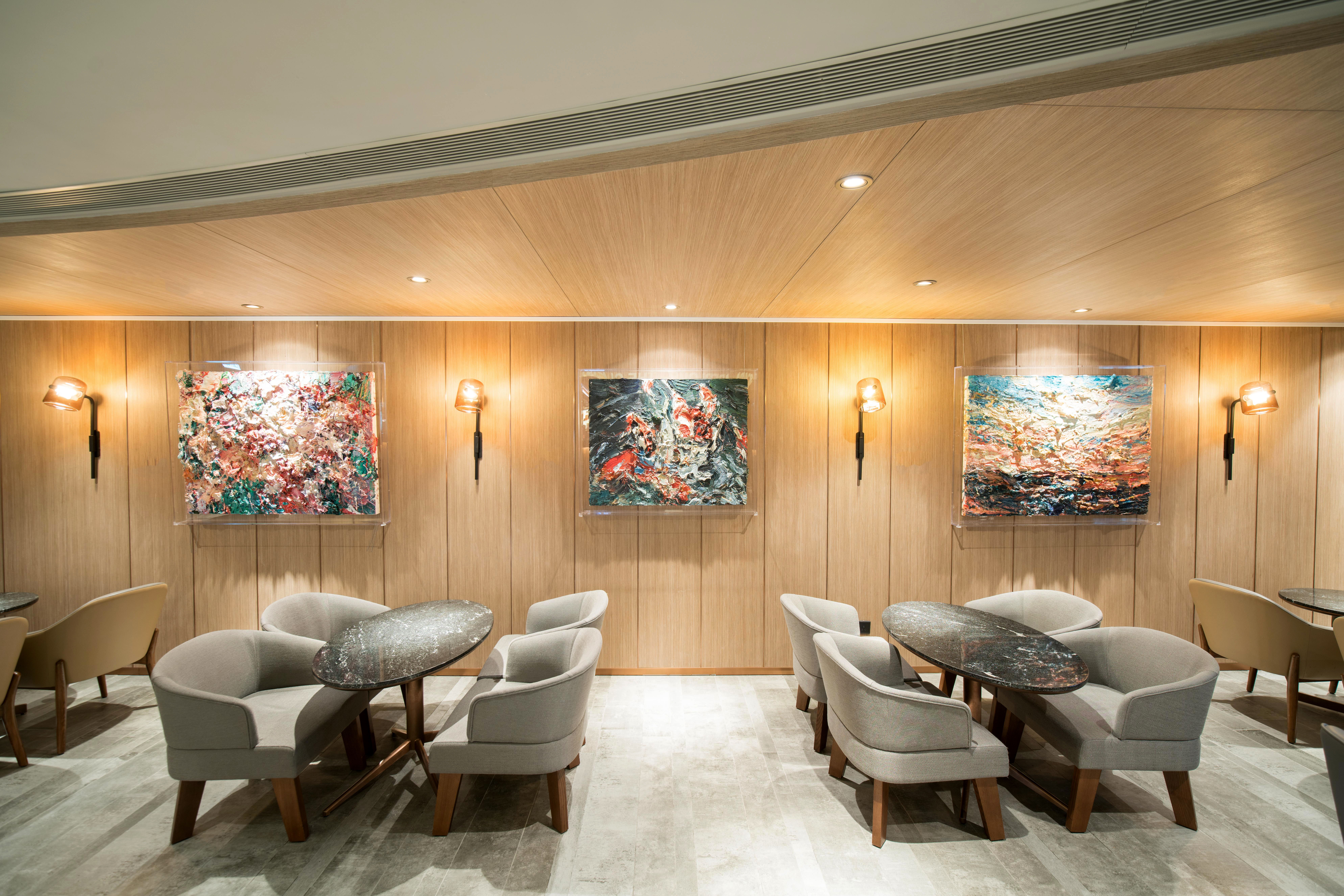 Plaza Premium First is the world's first independent airport lounge to transform their lounge space with an art installation, launching the "Return to Your Heart" exhibition at Hong Kong International Airport in collaboration with corporate art solutions experts Beijing Poly Art Company Limited. Part of Plaza Premium First's promise to create elevated and refined airport hospitality experiences for global travellers, the "Return to Your Heart" installation of paintings and sculptures by contemporary Chinese artists will allow guests to celebrate an exploration into nature and humanity. The exhibition is open to all Plaza Premium First guests until December 31, 2019 and features works by artists Lv Shanchuan, Fan Xiaoyan, Si Peilin, Tian We, and Hua Qing 
"An airport lounge stay is one of those rare times where you get a moment to yourself undisturbed. ​ With this exhibition, we invite our guests to indulge in a unique art exploration to reflect on the theme of the collection," shares Mei Mei Song, Brand Director, Plaza Premium Group. "Bringing in an element of surprise to the airport journey and ultimately making travel better is at the heart of what we do at Plaza Premium Group. ​ We are on a constant search to create unique airport moments for our guests; the art collaboration is the first of many initiatives we will be launching to uplift the airport hospitality experience." 
The "Return to Your Heart" exhibition encourages travellers to interpret life journeys through symbols of nature, people, and cultural landscape. With a series of artworks seamlessly integrated across Plaza Premium First Hong Kong lounge space, guests are invited to explore profound reflection before embarking on their trips. Artworks include a set of canvas paintings by Lv Shanchuan, celebratory sculptures carved by Fan Xiaoyan, a landscape collection by Si Peilin, symbolic artwork by Tian We, and a contemplative piece by Hua Qing.
The artworks are meticulously integrated throughout Plaza Premium First Hong Kong, creating an in-lounge art journey for guests to explore beginning with the AeroBar, moving towards the lounge seating area, and finally into the Infinity Room, a flexible and private space next to the main lounge area. Guests heading towards the AeroBar begin their art journey with a collection of canvas paintings by Lv Shanchuan, known for his technique of using multiple layers of oil paint. In the same space that features a comprehensive range of bespoke beverages, guests are invited to experience a celebration symbolised by the 1.6-metre-tall "Revelation" sculpture by sculptor Fan Xiaoyan. Hua Qing's "The Thinker" portrays a monkey sitting on a pile of books, inspiring travellers to re-think the relationship between innate nature and rationality while winding down in the lounge seating area. The "Landscape" collection painted by Si Peilin on the walls of Infinity Room illustrates iconic bricks and tiles from old Beijing. Rendering a striking contrast between black and blue, Tian Wei's "Gao Shala" comprises vertical movement and horizontal stillness, symbolizing the dynamic nature of time and the static nature. 
Full media images available for download here.
"Beijing Poly Art is dedicated to exploring the value of contemporary art in public space. We are grateful to become the first art partner of Plaza Premium Group. Through this exhibition at Plaza Premium First Hong Kong, we are excited to elevate the airport lounge experience with art. We look forward to having future opportunities to create dynamic and inspirational art journeys for worldwide travellers," adds Aiden Chen, Art Director, Beijing Poly Art.
Plaza Premium First Hong Kong brings world class experience through elevated brand partnerships, including working with: Italian coffee specialist Lavazza, sustainable eating advocate Green Monday, Singaporean tea connoisseur TWG, and internationally-recognized beverage company Pernod Ricard to offer the largest collection of Scotch Whiskeys at the Hong Kong International Airport. 
About Plaza Premium First 
Plaza Premium First redefines and curates an elevated and personalized experience for discerning travellers looking for an independent "first-class" airport lounge. ​ The unique lounge stay begins with a welcome tour by Lounge Ambassador, familiarizing guests with the lounge's experiential zones crafted for relaxation and rejuvenation. ​ Bringing the world experience to the meticulously designed space, Plaza Premium First collaborated with internationally known beverage brands for AeroBar including Italian coffee Lavazza; Singaporean tea TWG to offer special cocktails and mocktails; and Pernod Ricard to introduce the largest collection of whiskies and tailor-blended gin. ​ Dining experience is enhanced with in-lounge a la carte dining Primo, serving a selection of global cuisine. The inaugural locations were launched at Hong Kong International Airport, the Asia's first lounge to feature plant-based dish, and Kuala Lumpur International Airport. Plaza Premium First Hong Kong was named "Best Independent Airport Lounge" by Business Traveller Asia Pacific Award 2019. Learn more: www.plazapremiumfirst.com or follow @plazapremiumfirst.
About Beijing Poly Art Company Limited
Beijing Poly Art is affiliated to Poly Culture Group Corporation Limited (03636.HK). Based on China's most powerful art resource platform, Beijing Poly Art is committed to providing comprehensive contemporary art solution for corporates. ​ As the Chinese pioneer advocating corporation's engagement in the art scene, Beijing Poly Art focuses on integrating domestic and overseas contemporary art resources and discovering the unique culture and commercial value of contemporary art. ​ The company believes that through first-class professional and care-free turnkey services, art would be realized as a perceivable new value for corporations.